:: Thursday, March 10, 2005 ::



FEATURE: The Blogger as Producer
BY: Eduardo Navas

EXCERPT: Today, blogs follow the evolution of the newspaper writer, the newspaper reader, and the rise of the collaborator. Blogs have pushed the idea of the collaborator (as Benjamin saw it) in unexpected ways. For instance, because blogs function on a network (the Web which runs on the Internet), these are able to perform as platforms for not only feedback on printed media that is newspapers and magazines (which now also have online version of their publications), but also as places where to simply exchange ideas with other writers. Communities of bloggers (this is the name given to those who write on weblogs) flourished beginning around 1997 and recently, blogs have become an important part of the World Wide Web's infrastructure.

Click here to read the entire article.


---

PROJECT.OVERVIEW: PLAN Report: Reflections on the Pervasive & Locative Arts Network launch at the Institute of Contemporary Art in London, February 1-2, 2005, http://open-plan.org
BY: Naomi Spellman

EXCERPT: What is locative media? Judging from the PLAN gathering, locative media is the implementation of any context sensitive mobile technology - GPS, Bluetooth, wireless broadband, Sensors, RFID, etc. - to the end of actively examining and shifting how we interact with our physical environment and with each other. Projects span a wide range including social networking projects, walking projects employing digital mapping tools, and location aware games.

Click here for the complete article.


---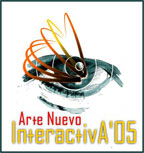 INTERVIEW: with Raul Ferrera-Balanquet, Organizer and Director of InteractivA
BY: Ignacio Nieto

EXCERPT:
InteractivA (Yucatan, Mexico) is a curatorial project and interdisciplinary laboratory that was born as a conceptual art proposal, according to organizer and director Raul Ferrera-Balanquet. The project will take place between 16th and 26th of June of this year. Ignacio Nieto presents an interview made with Raul Ferrera-Balanquet about his project, what will comprise the next version of the festival, and the risks that these types of projects have.

Ignacio Nieto (IN): I'm not clear what you mean when you said that InteractivA was conceived like an artistic project. Because you consider it as such, could you go a little bit deeper into that assertion. And could you define in your terms: "What is an exposition?"

Raul Ferrera-Balanquet (RF): The idea about conceptual art arises as an answer to various artistic practices, where the artists became curators using works of art taken from the collections of the museums, working with pieces of different periods and cultures, to make an alternative dialogue. I did something like that with the first version of InteractivA, because when I was in Australia I realized that many artists were marginalized from the actual history of arts.

Also available in Spanish language version. Click here to read the entire interview in English or Spanish.

Read Christina McPhee's commentary


---