:: Monday, June 07, 2004 ::

NOTE TO OUR READERS: Starting today, 7 June 2004, Net Art Review's "Weekly Features" will be posted on Monday mornings Pacific Standard Time.


---

NEW.WRITING: Isabel Saij interviews Francis Wittenberger, who curated and managed the Media Art Festival 2004, (MAF04) in Bangkok, Thailand, 20-28 March, 2004.
BY: Isabel Saij, with Francis Wittenberger
EXCERPT: Isabel Saij: Can you present the "Thailand New Media Festival 2004 to us?"

Francis Wittenberger: "Thailand New Media Art Festival" (MAF-04 Bangkok) is organized and produced by ICECA Thailand (Initiative for Cultural Exchange and Computer Arts)...The main idea behind ICECA and MAF is to introduce new media and computer arts in Thailand, where cultural heritage is a national treasure. In Thailand, technology hasalready arrived in every corner of life but art in Thailand is still a thing closer to "crafts"...Beyond the annual Festival--which exposes a large volume of international new-media arts in Thailand "MAF-DNL" -- the festival's Digital Network Library is a permanent collection conserving and offering access to a part of the festival's collection authorized for this purpose by the authors. The content is currently presented as part of the Alliance Francaise's Library/computer-lab in Bangkok, and final negotiations will soon allow DNL to become a permanent part of the Srinakarinwirot University's Central Library.

This interview is available in both English and French language versions. Translation by Isabel Saij.

click here for complete interview in English.
click here for complete interview in French


---

ORIGINAL POST: Monday, May 31, 2004
BY: Garrett Lynch

Mapping has become an obsession for net artists, new-media artists, researchers, and designers alike. We map the internet and its cultural/political/economical growth, the movement of information via emails, and the movement of people through websites. While seeming to be an almost naive approach to information, map or visualize it and you will understand: it is certain that, since culture is now predominantly visual, it does assist in seeing the information in multiple and unexpected ways.

That obsession has never been so true than with Marcos Weskamp and Dan Albritton's project newsmap hosted on Marcos Weskamp's site marumushi.com/.

"Newsmap is an application that visually reflects the constantly changing landscape of the Google News news aggregator. A treemap visualization algorithm helps display the enormous amount of information gathered by the aggregator. Treemaps are traditionally space-constrained visualizations of information. Newsmap's objective takes that goal a step further and provides a tool to divide information into quickly recognizable bands, which, when presented together, reveal underlying patterns in news reporting across cultures and within news segments in constant change around the globe."

Mapping news items from the Google News news aggregator based on location, on the regularity of its appearance, how up to date it is, its importance etc., Newsmap displays the news in blocks of color, visually identifying what is the latest and most documented news by splitting them into categorized strata or layers.

Already receiving an Award of distinction in Prix Ars Electronica 2004, and heavily featured in the press (Creative Review, amongst others), Newsmap's creators emphasize that it "does not pretend to replace the Google News news aggregator;" rather "its objective is to simply demonstrate visually the relationships between data and the unseen patterns in news media," which it succeeds in doing.


---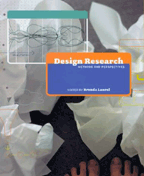 ORIGINAL POST: Monday, May 31, 2004
BY: ana boa-ventura

"Design Research : Methods and Perspectives" - Brenda Laurel's most recent book

There I was, at SXSW in Austin, in front of the "diva" that was hectically signing her newest book. I was distracted looking at the tattoo on her arm when she grabbed my book. I just had enough time to mumble "your Computers as Theater changed my life."

At a time when theorists in visual culture (and I will leave the "label" there) are realizing they must reassess the way we do research in the field, Brenda Laurel's last book on Design Research is refreshing and inspiring. "Design Research : Methods and Perspectives," with preface by Peter Lunenfeld, proposes a re-examination of research methodologies in the area of trans/convergent/digital media.

While the book presents qualitative and quantitative methods, performance ethnography, and design improvisation as recent trends in research in the field, those seeking a systematic presentation of alternatives out there may be disappointed. The book is composed of essays that some may find self-congratulatory, and, hence, it is more a collection of case studies than an overview of alternatives methodologies. Furthermore, these projects are too distinctive for any generalization of the methodology followed (and in any case there is no clear assessment of the method followed).

And given that this week people of NY can see the exhibition of the MFA Design & Technology students at the Parsons School, allow me this closing note. Many are saying of this event, which starts June 2nd, that it redefines Digital Design, for it proposes a reflection on the impact of technology on human experience. Although Laurel's book may not present "the" solution, or even a systematic overview for designing research in the realm of the digital, it does seem to anticipate the Parson's exhibition in stressing the need for a new framework, where methods are truly interdisciplinary, informed by areas such as performance and anthropology.

More info on the book's table of contents here.


---