:: Monday, June 14, 2004 ::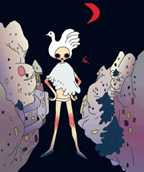 ORIGINAL POST: Sunday, June 06, 2004
BY: Kristen Palana

Japanese artist, Aya Takano, had imagined how life will be in The World after 800,000,000 Years.

Takano is interested in playing with the concept of Japonisme, as well as incorporating elements of anime, cartoons, science fiction, and erotic art into her work.

As you can imagine, entering her world that exists 800,000,000 years from now requires that you search and click. It reminds me a bit of being a baby exploring a new and foreign world, listening to sounds, watching its environment, tasting and touching, in order to make sense of the still unknown sensations surrounding it.

However, not everything is foreign. There are recognizable "human-like" creatures, which seem to be exclusively skinny, post-adolescent girls, barely clothed, yet somehow highly fashionable (in that world). They have big, empty eyes, reminiscent of supermodels posing for a camera. If they indeed are the only ones in that world, without male counterparts ogling or objectifying them, then maybe they don't care how they are perceived. Perhaps they're just free to walk around as they are then, without any of my 21st century concerns.

The other clickable objects in the future environment are mostly from nature, and most of them offer smooth transitions--the others not-so-smooth (pop-ups)--that give us more information about this world. Aya Takano has graciously provided text to explain some of the things we encounter. I just wish some of it were a little easier to read. I did think the sounds in the piece, especially the voices, were very well done.

Aya Takano is based in Kyoto and Tokyo and belongs to Kaikai Kiki, a group of young artists organized by Takashi Murakami. I recommend checking out her work. It can be found at Moca's Digital Gallery.


---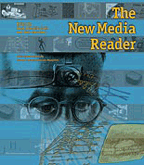 ORIGINAL POST: Wednesday, May 12, 2004
BY: Eduardo Navas

As new media becomes part of "old media," new books categorizing and tracing the creative development are published. Perhaps the first major work to have placed new media on the map of the mainstream art world would be Lev Manovich's The Language of New Media, published in 2000. Another major book, which is actually a compilation of historical readings leading up to what now is commonly known as new media, is The New Media Reader, edited by Nick Monfort and Noah Wardrip-Fruin; and Multimedia, edited by Randall Packer and Ken Jordan, is yet another essential supplement for the new media enthusiast. In 2003, Thames and Hudson released Digital Art by Christiane Paul; and most recently they released Internet Art by Rachel Greene.

What is worth noting in the consistent publishing of these books is that the emerging technologies field is now entering a new stage where work known as new media is becoming available to the average art enthusiast. One can only hope this will be viewed as a rhetorical invitation for others who are active within the new-media field to write their own histories.


---

FEATURE EXTENDED FOR AN ADDITIONAL WEEK

NEW.WRITING: Isabel Saij interviews Francis Wittenberger, who curated and managed the Media Art Festival 2004, (MAF04) in Bangkok, Thailand, 20-28 March, 2004.
BY: Isabel Saij, with Francis Wittenberger
EXCERPT:

Isabel Saij: Can you present the "Thailand New Media Festival 2004 to us?"

Francis Wittenberger: "Thailand New Media Art Festival" (MAF-04 Bangkok) is organized and produced by ICECA Thailand (Initiative for Cultural Exchange and Computer Arts)...The main idea behind ICECA and MAF is to introduce new media and computer arts in Thailand, where cultural heritage is a national treasure. In Thailand, technology hasalready arrived in every corner of life but art in Thailand is still a thing closer to "crafts"...Beyond the annual Festival--which exposes a large volume of international new-media arts in Thailand "MAF-DNL" -- the festival's Digital Network Library is a permanent collection conserving and offering access to a part of the festival's collection authorized for this purpose by the authors. The content is currently presented as part of the Alliance Francaise's Library/computer-lab in Bangkok, and final negotiations will soon allow DNL to become a permanent part of the Srinakarinwirot University's Central Library.

This interview is available in both English and French language versions. Translation by Isabel Saij.

click here for complete interview in English.
click here for complete interview in French


---