:: Wednesday, July 06, 2005 ::

ART AND MOBILE TECH::



PROJECT REVIEWS::
BY:Molly Hankwitz

Debord's 'Theory of the 'Derive' is one example of artists' cracking urban experience to free the imagination in relation to 'place' and 'commodification' - a subject with endless possibility. This radical urbanism, in the context of 'locative' and 'mobile media' deserves reconsideration in today's climate of exploratory art, tracking, surveillance, and mobile 'commercial' applications. Two interesting mobile 'bus' projects explore cities, social space and networking in the context of creative spatialization and reinterpretations of navigation.

::MAY YOU PARTICIPATE IN A DIGITAL WORLD RESIDENCY A partnership with BBC Wales, The Welsh Language Board and University of Wales, Bangor

The BBC Wales New Media has produced a mobile studio with outcomes expected for the 'MAY YOU LIVE IN INTERESTING TIMES' first Cardiff festival of creative technology, October 2005. The residency is a touring bus which has onboard a broadcast production studio with wireless broadband internet access, a network of six PCs, a large TV/plasma screen, a Sony HDV broadcast TV camera, digital cameras and scanners. Travelling with the bus is a driver, a producer, a community researcher, and a Lifelong Learning advisor. All the staff are bilingual (Welsh/English). Invited artists (names pending) have been asked to address the festival theme of investigating the 'places' where digital technologies become grounded in geographical and social context and to produce a project that will focus on community participation and exchange and be structured to manage both Welsh and English language content. Full utilisation of the technology available in the mobile studio, the expertise of the crew, and the studio's portability is also expected.

http://www.bloc.org.uk/2-x.html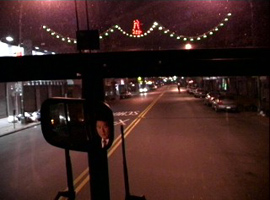 ::e-Xplo

A collaboration between Erin McGonigle, Heimo Lattner,and Rene Gabri maps, routes, sound and film materials as reflections of a multifaceted investigation into location, social identity, landscape, and the public space of information, calling their tour bus a 'navigable cinema.' They have, since 2001, organized bus tours in Budapest, Massachussetts, Berlin, London, Eindhoven/Rotterdam, Turin, and New York.

Their new work'Sleeping Dogs Lie - Part 2 - untitled' for the NAVIGATE 'live art' festival, the Baltic Centre for Contemporary Art, June 30th - July 3rd and ms Stubnitz (moored Newcastle Quayside), is four performances of an audio coach tour of nocturnal Newcastle/Gateshead in a bus equipped with an audio system and GPS receiver. The performance combines pre-recorded and live electro-acoustic sound, transforming the ordinary coach into a "navigable cinema".


We cannot escape the politics of the sites we choose, and even in mapping a tour, even in struggling for the visual element, we cannot avoid the specifics of the place entirely. Having said that, how may our concerns be heightened by the visual, historical, architectural, acoustic and political circumstances of Newcastle? The night challenges us to enter a process of constructing and reconstructing topographical views on the subject.


Just what these mobile projects have to do with net.art remains to be seen to the degree that they deal with networks, mobile or not, at all, but there is certainly metaphoric crossover worth considering,especially in terms of 'freeing' the imagination with respect to narratives of mobility and the function of place.

:::
Other websites and inf::

MAY YOU LIVE IN INTERESTING TIMES
Sleeping Dogs Lie
TCM Reader
www.e-xplo.org

:::
This review will be the last of the 'Art and Mobile Tech' Weekly features for now. We've run the project from May 1 to July 6th, 2005 and all reviews and articles are archived on the NAR site. We will be phasing in a new project guest edited by Ana Boa Ventura for July 15th. Please stay tuned! :: mh


---