::NET.TEN:: \\Online Selections//
BY: Annie Abrahams
Starting the month of May 05, Net Art Review invites an artist or new media producer to share her favorites links with our readers. We are very happy to kick things off with recommendations by Annie Abrahams.
Click here for Abrahams' recommendations
---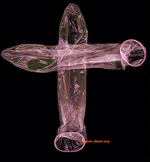 ::FEATURE.REVIEW:: "BAMBINO IN KOMA" BY: Francesca De Nicolò

KID Koma è un luogo dove dlsan ha voluto rappresentare: "il bambino in coma dentro di noi - che vogliono assopire anziché risvegliare, dove gente mi ha detto non c'ho capito nulla del tuo sito ma c'ho perso più di mezz'ora, e secondo me questo è bellissimo -Il mio primo amore teatrale dopotutto è stato Ionesco e il suo teatro dell'assurdo...".

Moltissimi sono i link che negli anni si sono sovrapposti intorno e dentro kid koma quali meccanismi che attivano una serie di viaggi mentali.

Click here to read the review


---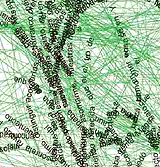 ::SPECIAL FEATURE::
This month NAR features a focus on Artist and Scientist Santiago Ortiz
from a minima::
a magazine published in Spain in English and Spanish.

I do not care about the machine. I do not think it important and I avoid the debates which have become continuous in the western technocracy. In general, I suspect that western speeches are banal and repetitive, that they constantly think they are discovering what was always known and put into practice in other cultures, and that the mere fact that the technologies of our culture have a wider scope and power has led to the collective sensation that the rich west is the manager in charge of the future. Being immersed, in terms of work, into an environment where they talk about and debate topics in which I am not interested (such as the relation between man and machine, the great or disastrous futures brought by technology, the digital network as a collective brain, ciberpunk, technological activisms and hacktivisms, copyleft and commons, etc.)
makes me uneasy in a way. I have been on the verge of losing my computer more than once. Again, just to find an excuse and to devote myself to something new and different.

To contact a minima:: send an e-mail to andreagarciam@yahoo.es

Click here for .PDF file in English and Spanish


---

This work is licensed under a
Creative Commons
Attribution-NonCommercial-
NoDerivs 2.5 License.